The Sensory Overload Meme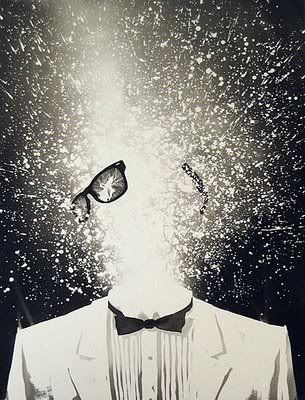 WHY ARE COLORS SO BRIGHT?! WHY IS THAT PUPPY SO LOUD?! WHY IS MY SENSE OF FASHION SO DELICIOUSLY KEEN!?

(TRIGGER WARNING)


Post with your character name/fandom/options for scenarios (ie; het/slash fluff/smut) and your prompt. Use
RNG
to pick your numbers. 1-5 for regular senses, 6-10 for moral sense, 11-16 for cracky senses.
Tag others.
The Basic Five

1. Sense of Sight
- Colors are actually
loud
. Maybe you can see for miles and miles, or maybe you can see things up close and personal. Perhaps you can see in the infrared/ultraviolet scope, or possibly even in x-ray vision. Whatever it is, you can see
everything
...
2. Sense of Smell
- Not only do you know what the person you're talking to had for breakfast, you know what they had for dinner, lunch and breakfast the day before. And if they had a quick personal spanky time before deciding to shake your hand. And if they washed theirs. Bloodhounds have nothing on you, baby.
3. Sense of Hearing
- Pins dropping? You can hear it. Fly's copulating? You can hear that too. That's just nasty. Whether it's the next room over or the next
building
over, you can suddenly hear things you couldn't before. Maybe you can even hear in the lower and higher frequencies - like a bat. Are you Batman? Maaaaybe.
4. Sense of Taste
- Your palate is almost exploding with the ability to taste each and every thing put in the tasty tidbit you're now consuming. Ooooh.. wait.. isn't there some kind of fact about there being five bug legs in each candy bar? Have fun tasting those, buddy.
5. Sense of Touch
- Your body has become extremely sensitive. A breeze can feel like someone's actually touching you. Clothing can feel harsh and painful. But other things can feel ridiculously sensual. If you have a fur fetish, now's the time to go sprawl on that rug. Who says you can't have fun by yourself?
The Guiding Factors

6. Sense of Right and Wrong
- Grey? What's that? You are strictly black and white. There is GOOD and there is EVIL. There is NO middle ground. You're taking justice to a whole new playing field - and not everyone might see things the way you do.
7. Sense of Decency
- You are overly sensitive to knowing what's the decent thing to do and what's not. Every move you make, every decision comes down to how it's going to affect other people; what will this do for the
community
? Won't someone think of the children?
8. Sense of Self
- You know more about yourself than you likely should. Everything you do, you know the how's and why's behind it. Your motivation on everything is clear. Your reasoning of your actions is logical and easily seen by you. The thought of questioning your decision or second guessing yourself doesn't even cross your mind. You know what's up. Maybe it's time for everyone else to.
9. Sense of Preservation
- Crossing the street while the light's red? Hell no. You want to
live
! Forever, if possible. Every decision is now factored by how it affects your life and your longevity. No more fatty foods. No more drinking. No smoking. Survival of the fittest means becoming one of them. Time to conform, buddy. Go green.
10. Sense of Empathy
- Your sense of empathy has become a tangible thing. You can literally
feel
the feelings of those around you. A thought of 'how does this affect so-and-so' puts you in their shoes. Now you know. 'Fatty Fatty Bum-Bum' was
not
a funny nickname...
The Quirky Ones

11. Sense of Humor
- You, my dear, have the hilarity of every comic genius all rolled into one delectible little package. Every passing joke is a zinger. You can see the funny in every situation. And you can make others see it, too. Why did the chicken cross the road? You can come up with the perfect reply... *badum bum CHING*
12. Sense of Direction
- If you'd been in the plane that went down on Lost, you would have had everyone gathered and out of there, sipping Mai Tai's on the next inhabited island the next day. You
can't
get lost. It's impossible. You're a walking compass. You know where you are at all times. At. All. Times.
13. Sense of Modesty
- Your eyes are down. Your buttons are done up. Everything is covered. You don't feel the need to flash any extra skin to get attention. Nor do you need to brag about accomplishments. Blushing has become a new constant for you; it wasn't all
that
special.. they don't need to go on
that
much. Humble is your new middle name and you're going to live up to it.
14. Sense of Fashion
- You put Versace to shame with your smooth sense of style. Every where you go, people are ogling. "Oh. My. Gawd. Did they really just put that ensemble together from something they picked out of Clooney's garbage? It looks
divine
. I want one. I want three. Now." Everything about your appearance has people staring in envy and awe.
15. Sense of Timing
- Every second that ticks by, you are aware of. You're never late. You're never early. You're are always precisely on time. You know how long it takes to eat that microwave burrito, or how long your morning constitutional is going to take. Everything you say and do happens at the precise moment that it needs to for you to get the optimal result.
16. Mix and Match
- Oh, wow. You could almost be a superhero with the mix of abilities you have. 2? 3? All of them? They should call you 'The Sensinator'.